Conferinta Gregg Braden la Milano
28 - 29 octombrie 2017
Share to your friends

Servicii incluse:
- cazare in perioada
evenimentului (in functie de numarul de nopti selectat)
, la unul dintre hotelurile din oferta, sau *similar, **la cerere
- mic dejun
-
BONUS ACTIV EVENTURIA
- bilet de
acces la eveniment pentru 2 zile, categorie loc pe scaun
- taxa de procesare/ trimitere a documentelor de calatorie



Nu sunt incluse/ servicii optionale, la cerere:


- o categorie superioara de bilet, care se poate asigura, contra-cost, cu achitarea diferentelor de plata




- transportul din/ spre Romania (se poate asigura la cerere, contra-cost)




- transferuri (se asigura la cerere, contra-cost)




- asigurare medicala de calatorie/travel storno (aprox. 35 – 45 ron)




- taxa de oras (se plateste la receptia hotelului, obligatoriu/ este variabila)



NOTE – AVANTAJ ACTIV EVENTURIA:
* Cazare la unul din hotelurile metionate sau similar, in functie de disponibilitati si preferintele Dvs.!
** O data confirmata cererea Dvs., rezervarea poate deveni ferma, cu acordul Dvs.!
*** Se pot schimba datele ofertei, in functie de preferintele Dvs. ( nr. nopti, hotel, categorie bilet spectacol, alte servicii optionale etc.), cu recalcularea costurilor!
**** Orice modificare se face de comun acord cu Dvs. si doar dupa confirmarea ferma, pachetul devine 100% garantat si sigur!

A VENIT VREMEA sa intri in randul elitelor mondiale, a venit vremea SA FII O PERSOANA DE SUCCES, a venit vremea realizarilor! #Eventuria te trimite in arena leilor, sa inveti de la cei mai buni si sa le calci pe urme! Invata de la cei care au deja experienta, pentru ca numai ceea ce ai invatat + ceea ce poti crea iti vor aduce bunastarea pe care ti-o doresti! Iar bunastarea nu consta doar in bani si bunuri, ci in puterea ta creativa de a o lua de la 0, in orice moment al vietii, pentru ca esti suficient de invatat si experimentat ca s-o faci! Un om informat = un om bogat.
2015 Templeton Prize Nominee
The prestigious Templeton Prize "honors a living person who has made an exceptional contribution to affirming life's spiritual dimension, whether through insight, discovery, or practical works." Its aim is to identify "'entrepreneurs of the spirit': outstanding individuals who have devoted their talents to expanding our vision of human purpose and ultimate reality."
"The Prize celebrates no particular faith tradition or notion of God, but rather the quest for progress in humanity's efforts to comprehend the many and diverse manifestations of the Divine. Men and women of any creed, profession, or national origin may be nominated for the Templeton Prize. The distinguished roster of previous winners includes representatives of Christianity, Judaism, Islam, Hinduism, and Buddhism. The Prize has been awarded to scientists, philosophers, theologians, members of the clergy, philanthropists, writers, and reformers, for work that has ranged from the creation of new religious orders and social movements to humanistic scholarship to research about the origins of the universe."
(source: http://www.templetonprize.org/abouttheprize.html)
Book Awards
2007: The Divine Matrix – Science & Cosmology
2008: Secrets of the Lost Mode of Prayer – Science & Cosmology
2009: Spontaneous Healing of Belief – Science & Cosmology and audio version as well.
2010: Fractal Time – Science & Cosmology
2012: Deep Truth: Igniting the Memory of Our Origin, History, Destiny, and Fate – Science & Cosmology
2014: The Turning Point – Social Change

Gregg Braden
Dall'evoluzione casuale alla trasformazione volontaria

Bruce Lipton
I punti chiave della Biologia delle Credenze

Bruce Lipton
Come sfruttare le interazioni tra corpo, mente e spirito

Gregg Braden
La natura dell'universo e le connessioni con l'essere umano

Gregg Braden
I collegamenti tra la conoscenza degli antichi e la saggezza dei moderni

Bruce Lipton
Modificare le proprie percezioni per modificare il proprio DNA – I parte

Bruce Lipton
Modificare le proprie percezioni per modificare il proprio DNA – II parte

Gregg Braden
Le tecniche di guarigione emozionale e fisica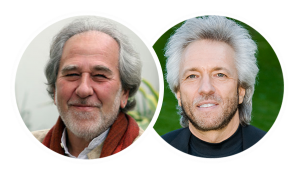 Bruce Lipton / Gregg Braden
Question Time